The Maha Kumbh Mela (Part 1) by Ross Dixon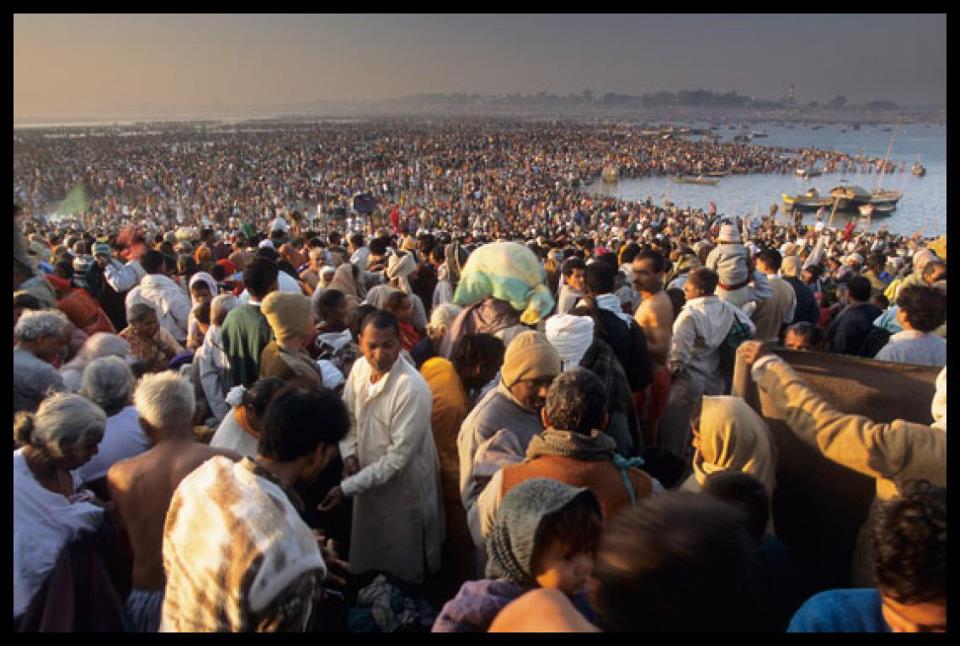 Thursday 7th February 2013
Within a week of arriving in India for the first time, I would be attending the Maha Kumbh Mela. I was travelling with Debbie Farrar, a yoga teacher who also leads tours and retreats in India, and Matthew Farrar, Debbie's brother and our trip photographer. The Kumbh Mela was happening in the north of Uttar Pradesh near Allahabad. At the confluence of the Ganges, Yamuna and mythical Saraswati rivers. Matthew and I were in India to assist Devi on an experiential tour, but we had arrived there early to be at the largest peaceful gathering of human beings in the world. Over one hundred million people were reported to have attended in 2013. The crowd at Kumbh Mela gatherings is visible from space.
The Kumbh Mela is a mass Hindu pilgrimage of faith, where Hindus gather to bathe in sacred rivers. It happens every twelve years at one of four locations. The most auspicious bathing days are calculated in advance by vedic astrologers, according to the positions of the Sun, the Moon and Jupiter. I was curious about how being at this event would affect me, given that it would be so foreign to anything that I had known before. By this stage though, India had already won me over, I had learned to trust it and I was beginning to get the sense that it was best to let things just play out as they would.
Like all western visitors to India, I carried hang ups and assumptions. Most, if not all of these needed to be quickly set aside, in order for me to experience India fully. Any westerner who has travelled India will tell you that it is very good at showing you to yourself, as you are faced with endless new and sometimes uncomfortable situations.
Before arriving in Allahabad, we had spent the night travelling by train, six hundred and fifty kilometres south-east, from Delhi. While Devi had been asleep on the train, Matthew and I had fallen for a scam. Men in the same uniforms as the train ticket collector had served us dinner, in a manner that had given us the impression that the food was included in the ticket price. They later stood over us and demanded money. After our initial refusal to pay, the men didn't go away, and when more men in uniforms came, the situation became tense, so Matthew and I decided to pay them off and put it down to experience. Debbie later told us that it was the type of thing travellers might expect in India, and that it happens to everyone, until you develop a sense of how to avoid it. Although I remembered having to iron out similar experiences during my previous travels, India had knocked me off guard, everything there was plain to see; the sights, sounds and smells of life were much more vivid in India than anywhere else I had been.
Being considerably further south than Delhi, Allahabad was notably hotter and drier. I was concerned by how busy, yet small the train station was, and we would later learn that on the 11th of February 36 people had been killed and 11 injured, in a stampede there. The three of us jostled through the crowds and gathered on the car park. After drinking some water and re-distributing our bags correctly, we walked into a frenzy of tuk tuk and taxi drivers. Thankfully Debbie had experienced many of these situations and she appeared to take pleasure in negotiating for a taxi to our camp. After two stops; to exchange a gas bottle and for some water, our typically cheery Indian taxi driver took us from Allahabad, across the Yamuna bridge to our camp.
We were faced with the complications we expected upon arriving at such a huge event. Thanks to the staff of the Parmarth Niketan camp and an American lady called Daisha, we had our accommodation arrangements roughly in place within a few hours of arriving; at least rough enough for us to forget about our bags for a while. Debbie was affiliated with Parmarth Niketan from her previous work in India. The facilities at the camp site were fantastic; including comfortable tents, hot water heated by wood burning stoves and buffet style meals at regular times throughout the day. During our settling in period, Debbie had given Daisha some impromptu Yoga coaching, while Matthew and I had mostly discussed our anticipations of the enormous crowd that we could see across the river.
The crowd stretched from the banks of the Yamuna and Ganges, way back into the distance, then over the horizon. At one point the four of us just stood in silence, to take it all in. The view was spectacular; the crowd, the boats that were taking people across the river, enhanced by the distant sounds of singing and chanting. After joining us for dinner, Daisha offered to come into the main festival site with us the following day.
Friday 8th February 2013
After breakfast Daisha introduced us to a Brazilian lady called Larissa who would be joining our group for the day. Then we walked down to the bank of the Yamuna to catch a rickety old boat across to the main site. We shared a boat with around fifteen Indian people of all ages. All the generations of families seemed to be there together. Everyone on the boat seemed visibly happy and excited except for the two rowers who were focused on their jobs, shouting what seemed like tactics to each other, in Hindi. Once the five of us had found bits of boat to sit on that didn't seem like they would break, we exchanged proper introductions with Larissa and expressed our excitements and concerns to each other.
The river was teeming with thousands of boats, just like the one we were in. I wondered how the rowers knew how to approach what looked like a chaotic and jam-packed riverbank at the far side. I remembered to let go of my concerns so that I could enjoy the ride. We exchanged photographs with the people on the boat. Daisha explained that we could expect to be treated like celebrities from here on. As we approached the riverbank, I saw that soldiers had the boat landings in some kind of order; with surprising speed, and some of the usual jostling, we were off the boat and stood among the crowd.
The atmosphere on this side of the river was very different, there was a bit of understandable paranoia among our group. As the only westerners in sight among thousands of Indian people, we instantly became the target customers of every kind of trinket salesperson. It seemed like every single person at the Kumbh Mela wanted to try to sell us something. After a short while however, we all seemed to develop the body language and eye contact avoidance tactics required to establish enough of a boundary. Thanks to a bit of necessary ruthlessness, we managed to be in control of who engaged with us (most of the time). Occasionally of course, the group would be charmed into conversation or purchases.
We walked up a hill past a large, old fort, seeing thousands of Indian people from all walks of life. Despite the crowd becoming more dense, the noise and confrontations that met us after we left the boat had soon given way to a more relaxed atmosphere. As we got further into the main site it seemed that everybody was just enjoying themselves. All of a sudden we were being greeted by people who wanted to chat and find out where we had come from. Daisha hadn't been wrong about the celebrity treatment. It seemed like as an Indian person it must be very cool or funny to have your picture taken with westerners. We allowed for every photo request at first, but after a while it seemed like we would be stuck in the same place all day. So sadly the group had to get ruthless and resort to our avoidance tactics again. There were many exceptions, including a man lending me all of the candy floss he was selling and gestured that I should have my picture taken with Debbie. The fact that Debbie's hair was the same colour as the candy floss was very amusing to him.
Debbie asked if any of the group would like some juice, as she had spotted a young man squeezing lemons at his stall. I certainly wanted some, as we had only just arrived and I could already feel my mouth getting dry. After a unanimous 'yes', except for Daisha, who had fallen behind to talk to an Indian family, the group gathered around the lemon juice stand. The young man worked eagerly on our drinks and soon five cups were laid out on the stall. I took one and had a big gulp. It wasn't the sharp refreshing lemon juice I'd hoped for. It was salty tasting and quite thick. Also, I noticed a powdery substance on the stall that looked like ash. I asked what it was and if it was in the drink. The young man nodded and pointed, as if to say that yes it was in the drink, but language barriers prevented us from getting to the bottom of what the stuff actually was. The young man seemed a little bit offended that we hadn't been impressed by his drinks, but we all left them, hoping that we hadn't taken something that might make us ill. After drinking from our water flasks, we walked further into the Kumbh Mela. As a group we had begun to adjust to our hectic environment, knowing that we would have to get used to it, as it would be a long day before we would be back at the camp.